---
Gertrude Bell (Queen of the Desert)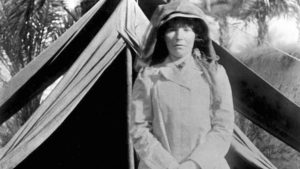 In 1899, Gertrude Bell returned to the Middle East and visited Palestine and Syria, touching off a period of sustained travel there and in Asia and Europe. Her writings on her experiences across the globe informed British audiences about the distant parts of their empire. Bell's works published during the two decades preceding World War I include Safar Nameh (1894), Poems from the Divan of Hafiz (1897), The Desert and the Sown (1907), The Thousand and One Churches (1909) and Amurath to Amurath (1911). Bell also maintained a vast correspondence during this period, which was eventually compiled and published in 1927.
During World War I, Bell worked for the Red Cross in France before joining the a British intelligence unit in Cairo, Egypt, known as the Arab Bureau. There, she collaborated with famed British traveler T.E. Lawrence to try to forge alliances with Arab tribes. Her writings about her experiences in the Middle East—particularly in Iraq—continue to be studied and referenced by policy experts in the 21st century.
British forces eventually captured Baghdad in 1917. Subsequently, Bell became involved in the political reinvention of Mesopotamia, where she helped colonial authorities install ruler Faisal I as monarch of Iraq. Fluent in Arabic and Persian, Bell assisted British diplomats and local rulers in the construction of a stable government infrastructure. She was the only woman present at the 1921 Conference in Cairo, convened by Winston Churchill to determine the boundaries of the Iraqi state.
Source:  https://www.biography.com/people/gertrude-bell-21149695
---